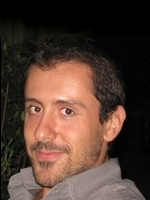 Tiziano Rimoldi - Resume
Contact me
Phone: +39 0521906067
email: tiziano.rimoldi@fis.unipr.it
Skype name: tizianorimoldi
Actual Position - (Jenuary 2012 - Now)
PhD student in Physics at the Department of Physics and Earth Sciences, University of Parma (Laboratory of Molecular Nanotechnologies).
Research Project: Spectroscopic characterization of hybrid nanostructures (Organic-Inorganic) for biomedical applications within BIONIMED project led by Dr. Giancarlo Salviati (IMEM-CNR Parma)
Supervisor: Prof. Luigi Cristofolini
Education and Training
May 2013
Certification of partecipation in XIII International Krutyn Summer School 2013 on Advanced photo and electrically active molecular and nano-materials at the interface with living systems: challenges and promises for the future bio-medicine.
Organizing Committee IKSS'13
Jenuary 2013
Certification of partecipation in the FEI Quanta FEG training course: SEM, LV-SEM and ESEM working mode.
Training Organisation: FEI Company™
February 2012
Certification of partecipation in Atomic Force Microscopy Techniques training course.
Training Organisation: Interdipartimental measures center – University of Parma
December 2009 - November 2011
Master degree in Sciences and Technologies of Innovative Materials (110/110 cum laude) "Synthesis and characterization of coupled nanostructures based on Fe3O4 nanoparticles and ZnO nanotetrapods"
University of Parma (Italy)
October 2006 - December 2009
Bachelor in Sciences and Technologies of Materials (110/110 cum laude) "Conjugate polymers and their applications in organic solar cells"
University of Parma (Italy)
Publications list
2. Matteo Bosi, Giovanni Attolini, Marco Negri, Cesare Frigeri, Elisa Buffagni, Claudio Ferrari, Tiziano Rimoldi, Luigi Cristofolini, Lucrezia Aversa, Roberta Tatti, Roberto Verucchi, Optimization of a buffer layer for cubic silicon carbide growth on silicon substrates, Journal of Crystal Growth 383 (2013) 84–94 Direct link
1. M Villani, T Rimoldi, D Calestani, L Lazzarini, V Chiesi, F Casoli, F Albertini and A Zappettini, Composite multifunctional nanostructures based on ZnO tetrapods and superparamagnetic Fe3O4 nanoparticles, Nanotechnology 24 (2013) 135601 Direct link